Applying the EMLA Patch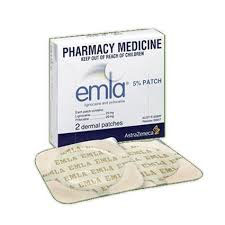 Purchase the Emla patch at your local pharmacy. You do not require a prescription to purchase it.
Ensure that the area of the skin to be anaesthetised is dry and clean. Take hold of the aluminium flap in the corner of the patch and bend it backwards. Then take hold of the corner of the beige-coloured patch layer. Pull the two layers apart, separating the adhesive surface from the protective liner.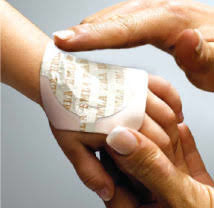 Apply the patch to the intended area and press firmly around the edges. Do not touch the white round pad which contains Emla. The time of application can be marked onto the corner of the patch with a ballpoint pen. Take extra care not to press the centre of the dressing.